2018
IT'S A MOVEMENT
wire cloth, plaster and LED flood light.
9' X7'2"
photo by Nash Baker
"It's a Movement", is a 4D, kinetic sculpture of five female figures that are made of wire cloth, plaster and shadows.
SONATA IN 4D
6'6" X 5'5" X 5'
steel, plaster and wire cloth
photo by Nash Baker
"Sonata in 4D" depicts energy, sound and the physical act of playing classical music, and its primal impact on emotions. I was inspired by a long exposure photograph of my cousin, Arkansas Symphony Concert Master Andrew Irvin, that captured multiple images as he played his violin. I was struck by the simple back and forth movements of a bow, composed of horse hair, drawn across strings that create emotionally charged sounds. In this piece, the music radiates off the musician as he plays, as well as off the strings of the violin, sometimes like a painfully slow waltz, and sometimes with the sharpness of a quickstep. Working on the piece during the last weeks of my father's life I examined each movement of the bow and the wire/sound that comes off the violin. Some warble and then end sharply like a tear running down a cheek. Others gently twist into a whisper that fades into a broken heart, and some linger and then pivot like a murmuration of birds and is set free, each movement triggering a unique emotion. I applied the concept of seeing multiple images, and seeing music as emotional energy in three dimensions. The piece is built on a steel armature covered in plaster, recycled wire cloth, and baling wire.
SONATA IN 4D - detail of legs
BROKEN
steel, reinforced concrete, and wire
40" X 29" X 55"
photo by Nash Baker
The tone is set at the top. Negligent leadership turns a blind eye to the suffering of its most vulnerable.
Inspired by a homeless man whose posture had physically changed from a lifetime of panhandling. I remember he was sitting on the ground with his legs crossed; he had fallen asleep. His head had fallen forward and sunk beneath his shoulders. His right arm, impossibly long from many years of stretching forward, wishful for handouts was out stretched holding an empty spare change cup. An owl, the symbol for wisdom, is perched on the figure's back turning a blind eye as have our leaders neglected the most vulnerable in today's society.
BROKEN
detail
steel, reinforced concrete, and wire
photo by Nash Baker
BROKEN
detail of foot
steel, reinforced concrete, and wire
YOU MAKE ME STRONGER
bronze
12" X 5.75" X 2.25"
photo by Nash Baker
At the end of every semester at Glassell, we clean out all the disheveled cabinets and drawers. We throw away broken tools and parts and reorganize the rest. A few years ago, while cleaning out the hammer and chisel drawer, I came across a worn out sledge hammer. Through the worn garish red paint the satiny steel skin of the mallet was unblemished, it had gotten better with age. Its handle on the other hand had not weathered as well. It resembled more of the rugged surface of old drift wood than a powerful hand tool. Its life had been extended several times with layers of duct tape that were now thread bare. I could only imagine over the years how many passionate sculptors had partnered with this handle and mallet to create their dreams; how many artist used it to mold their creations. I loved it for the history it held in the splintered grains of wood of its handle and the silent strength of its barely-red steel mallet. It's days of hard labor are over. I bought the school a shiny new blue and yellow sledge hammer with a rubber handle and took the old red maul home to rest. Uncertain of its exact future, it rested on my den coffee table for the better of a year. Guests always comment on what a cool tool it was. It sparked unsolicited stories of hard work, of past labors and stubborn relatives. This summer, I decided to make a mold of the old maul. Each casting will tell a different story. This first casting is "You Make Me Stronger," an ode to great partnerships as in the one with the artist, the handle, and the mallet.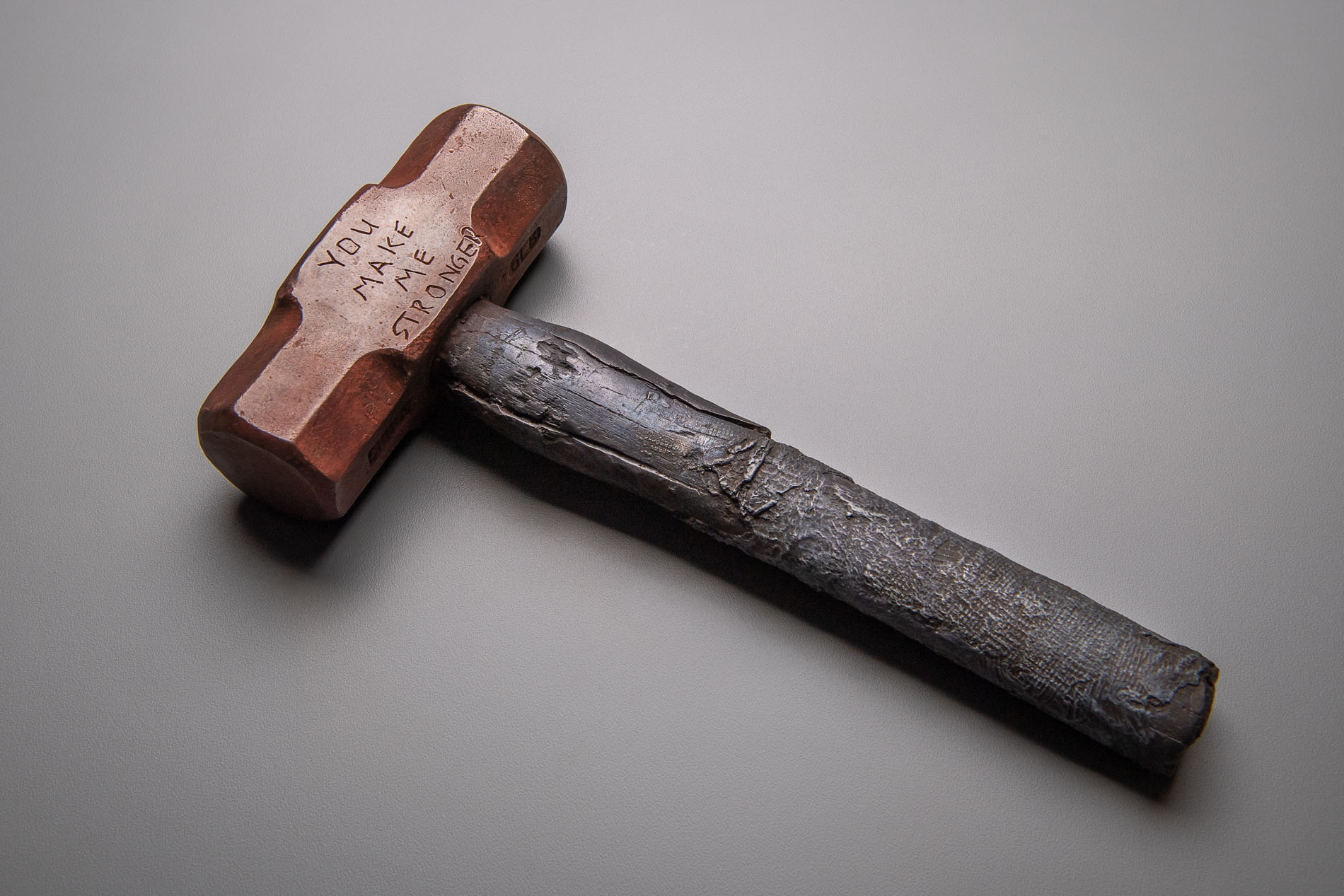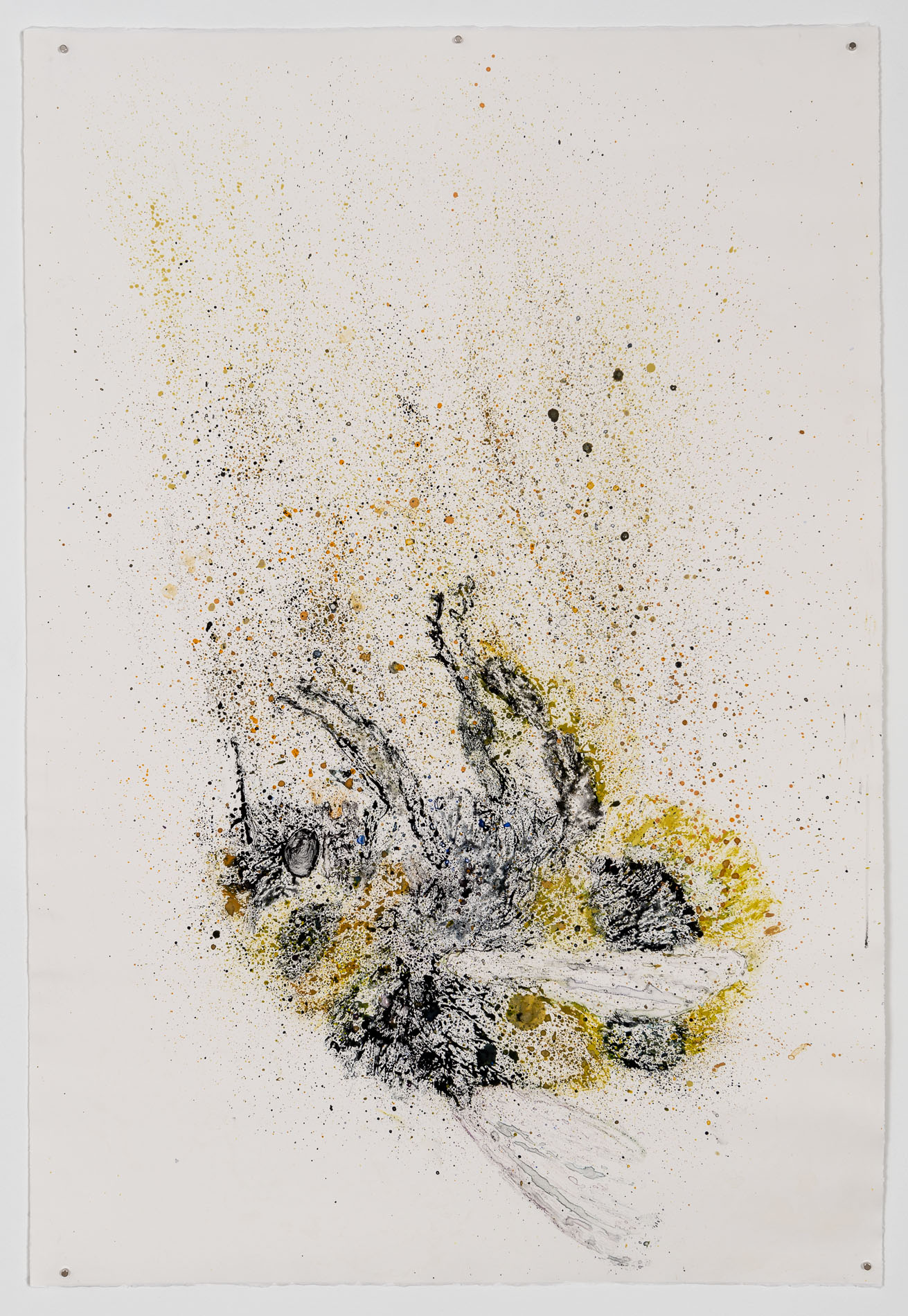 GLYSOPHATE IV
watercolor monotype
44" X 30"
GLYSOPHATE V
water color monotype
44" X 30"
GLYSOPHATE VI
watercolor monotype
44" X 30'"